With roughly 175,000 residents, Vancouver is only the fourth largest city in Washington, being smaller than not just Seattle but also Spokane and Tacoma. Vancouver is however located right by the border to Oregon and the bustling Portland Metropolitan Area, which is home to nearly 2.5 million people.

Examples of annual festivals and events in Vancouver
The Dine Out Vancouver Festival
Starting in mid-January, the 17 day long food festival Dine Out is a celebration of Vancouver's culinary scene. Over 250 restaurants participate, with special fixed-priced tasting menus starting at $20. There is also a profusion of culinary events taking place, including workshops, classes, street food happenings and neighborhood tasting tours.
PuSh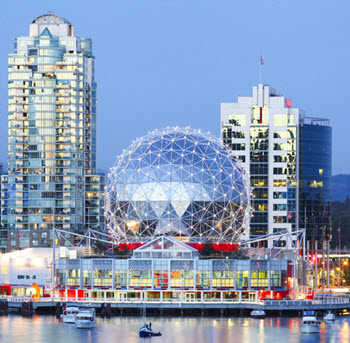 PuSh is a three week contemporary art festival in January with local, national and international artists from fields such as dance, music, theatre and multimedia performance.
Vancouver Cherry Blossom Festival
Vancouver is home to a multitude of cherry trees, and they are celebrated with various events during their blooming period in from the end of March through to mid-April. The festival includes art events, community bike rides, cherry blossom viewing tours, Japanese festivities, and more. In parks and gardens across the city, Petal Picnic Parties are arranged.
Vancouver Craft Beer Week
Vancouver Craft Beer Week is held in late May, at the fairgrounds at the Pacific National Exhibition. Sample 400+ beers from over a hundred different breweries. This is also the place where you can enjoy timbersports; a modern version of a lumberjack challenge.
Fourth of July
Fourth of July is celebrated at the Fort Vancouver parade grounds, with live music, entertainment and a fireworks display synchronized with music.
Vancouver Wine & Jazz
The Vancouver Wine and Jazz Festival is held in Esterh Short Park in late August. It is one of the largest jazz festivals in the Pacific Northwest.
Vancouver Pride
The Vancouver Pride festivities culminates in a Pride Parade on the Sunday of the August long weekend. The build up is spread out over two weeks, and includes everything from concerts and dances to tea parties and picnics. The Pride Parade route goes down Robson Street and south along Denman Street and Beach Avenue, until it reaches the waterfront at Sunset Beach.
Districts
If you want to navigate Vancouver, it is helpful to know that the locals see the city as consisting of three parts: Westside, Eastside (or East Van) and City Centre. Westside and Eastside meet at the Ontario Station, while the neighborhoods north of False Creek are considered City Center.
Please note that North Vancouver and West Vancouver aren't neighborhoods within the city; they are cities within their own right located north of the Burrard Inlet. They are not a part of Vancouver City even though they fall within the greater metropolitan area.
Districts in the heart of Vancouver
District
Info
City Center
This is the epicenter for high street shopping, restaurants and entertainment in Vancouver, and it is also home to the city's financial area. Many of Vancouver's most famous landmarks are located within this old part of the city.

For many visitors, this is the first district to explore. There are plenty of hotels in City Center, including very pricey ones.

Yaletown-False Creek
This used to be industrial lands, but has been renovated into trendy residential and multi-use neighborhoods.
Stanley Park

and West End

A popular area for recreation, since this is where you find beaches and greenery, plus many little eateries and small shops.
Gastown-Chinatown
This is the original center of Vancouver. Today, it is home to one of the largest Chinatowns in North America.
Examples of districts located a bit farther out from the center
Commercial Drive-Hastings Park
This is chiefly a residential neighborhood, but its a great place to visit if you want to try out restaurants with dishes inspired by the cooking traditions of many different parts of the world.
Mt Pleasant-South Main
This neighborhood is typically described as "artsy" and is known for its quirky little shops.

Queen Elizabeth Park is nearby, where you can visit free gardens and enjoy the view from Vancouver's highest point.

Kitsilano & Granville Island
Chiefly famous for its many art studios and the Granville Island Public Market.
UBC-Point Grey
The campus are of The University of British Columbia (UBC) is home to several spots well worth a visit even if you aren't a student, such as the Museum of Anthropology.

The Pacific Spirit Park is located nearby, and if you go farther east you reach the beaches Jericho and Spanish Banks.

Wreck Beach is a clothing-optional beach in this part of Vancouver.

Vancouver South
This is mostly a residential area.