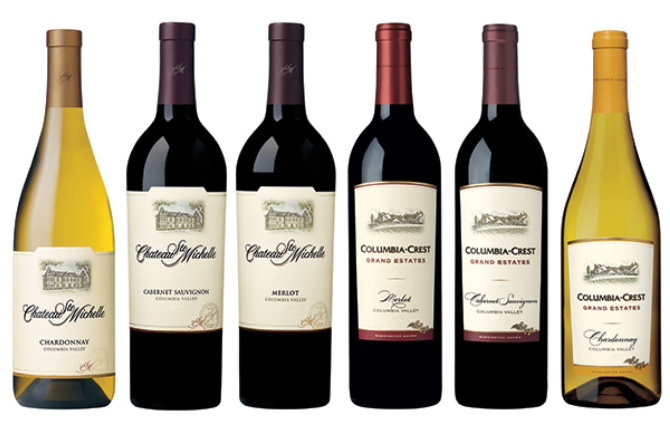 Washington State is the second-largest wine producer in the United States; only California produces more wine. Despite this, Washington is not very well-known as a wine producing state, perhaps because it isn't strongly associated with any particular grape variety, or because most wineries in Washington are small family run businesses that produced less than 25,000 gallons annually and tend to sell most of their wine directly to consumers or restaurateurs who visit tasting rooms.
Nearly all Washington grapes for wine-making are grown in Eastern Washington, which has a much drier climate than Western Washington. The shrub-steppe of Eastern Washington has proved to be highly suitable for grape growing, but reliable irrigation is important.
Compared to California, Washington state gets an average of two more hours of sunlight per day during the grape growing season.
Even though wine was produced in Washington State as early as the 19th century, the wine industry didn't really begin to grow big here until the 1970s. This was the decade when it expanded into new areas, such as Walla Wall and the Red Mountains. An important milestone occurred when the 1978 Leonetti Cellars Cabertned Sauvignon was touted as the best Cabernet of vintage and put on the cover of a prominent wine publication.
Grapes
Traditionally, the Washington wine industry was pretty focused on white wines, but this changed in the 1990s when the U.S. wine drinkers started favoring red wines made from the dark blue Merlot grape and Washington wine makers stepped up to satisfy this new urge. The 1990s was also an era where Chardonnay became more popular domestically. Today, Merlot, Chardonnay and Riesling are some of the most planted grapes in the state.
Merlot was one first varieties for which Washington State winemakers gained international recognition, with Washington Merlot wines being praised abroad for their characteristic earthiness and structure. Classic California Merlot wines tend to be much softer and more plush than those produced in Washington.
Today, over 80 different varieties of grapes are grown in Washington, with the Vitis vinera family of grapes being the dominating one. In addition to the Merlot, Chardonnay and Riesling mentioned above, Cabernet Sauvignon, Syrah, Carbernet Franc, and Sauvignon blanc have become very important.
If you feel experimental and want to get something out of the ordinary, Washington is producing wines from less known Vitis vinifera varieties. You can for instance try Aligoté, Black Monukka, Black Muscat, Green Hungarian, Pirovano, or Trousseau.
Examples of grapes grown for wine production in Washington State
Aligoté
Cabernet Franc
Cabernet Sauvignon
Carménère
Chardonnay
Chenin blanc
Gewürztraminer
Grenache
Lemberger
Léon Millot
Madeleine Angevine
Madeleine Sylvaner
Malbec
Marechal Foch
Merlot
Müller-Thurgau
Muscat Canelli
Muscat Ottonel
Petit Verdot
Pinot blanc
Pinot gris
Pinot noir
Riesling
Roussanne
Sangiovese
Sauvignon blanc
Sémillon
Siegerrebe
Syrah
Viognier
Zinfandel
Viticultural areas in Washington
These are the main wine-growing and federally designated American Viticultural Areas (AVA) in Washington:
Columbia Gorge AVA
Columbia Valley AVA
Ancient Lakes AVA
Horse Heaven Hills AVA
Puget Sound AVA
Rattlesnake Hills AVA
Red Mountain AVA
Wahluke Slope AVA
Walla Walla AVA
Yakima Valley AVA
Naches Heights AVA
Snipes Mountain AVA
Background
In 1825, traders working for the Hudson's Bay Company planted grape vines at Fort Vancouver in Washington Territory, but we do not know if wine was ever produced from these vines. What we do know is that immigrants from Germany and Italy were planting grape vines in Washington Territory in the 1860s and 1870s to produce wine.
Only a few grape growers in Washington managed to keep up the profession during the Prohibition era. When Prohibition had ended, the Washington wine industry started growing again, chiefly producing fortified sweet wines from Concord grapes. Two of the most famous wineries of this period was Nawico and Pommerelle.
Important stepping-stones of the middle of the 20th century
Dr. Walter Clore and Washington State University used the scientific method to see which grape vines that could produce the best wine in various soils and climates in Washington state.
A group of University of Washington professors founded Associated Vintners (later renamed Columbia Winery) and began making premium wines.
Nawcio and Pommerelle merged and formed what would eventually become Chateau Ste Michelle.
André Tchelistcheff (1901-1994) was hired as a consultant by both Chateau Ste Michelle and Assoicated Vintners. He was the most influential post-Prohibition winemaker in the country and is famous for his contributions toward defining the style of some of California's best wines. In Washington, he became an important aid for the production of premium wines.